Ukrainian refugees sheltered in Moldova start enjoying life again
At the summer camp of Cosnita village in Dubasari district, 130 refugees from Ukraine are currently accommodated. For them, life is divided in two parts -  until February 24, 2022 and after this awful day when Ukraine was attacked by Russia. Caritas Czech Republic in Moldova provided the summer camp with necessary equipment, such as washing machines, refrigerators, but also blankets and pillows, to ensure that the refugees have a comfortable place to stay in a new country.  
Anna's story: The sound of explosions is forgotten here
Millions of civilians have been forced to flee the bombing and are now scattered around the world. Some have chosen to go as far as possible, others have found shelter in Moldova and are trying to adapt here. A few conversations with refugee women from Odessa, housed in the "Prietenia" camp in the village of Cosnita, will help us understand how Ukrainians feel in Moldova and what future plans they have managed to draft here.
Anna is one of the refugees who had to flee Ukraine when the invasion began. "We have been in Moldova since February 28, when the bombing intensified in our city. We chose to stay as close to home as possible. We talk daily with those who stayed in Odessa and invite them to Moldova because we feel safe here," says Anna.
 But for various reasons not everyone can come. "For example, my mother is a doctor and she said that in these difficult times she must help her country. And my husband is fighting against the occupiers. We are proud of their choice. Our contribution, as mothers, is to care of our children - the generation that will rebuild Ukraine after it all calms down," Anna continues.
Anna and her daughter have already started to get used to being in Moldova. Her daugher goes to school in Cosnita and she says her classmates and teachers help her a lot. "She even attends dance classes. She remembers the explosions and fear from the basements less and less. I hope these awful things will soon become history."
Olga's story: We relearn to smile and enjoy life again
"I did not expect such treatment and good services here. We feel like we are on an extended vacation, although under terrible circumstances. But the services here helped us forget about the terror of the war," Olga, another Ukrainian refugee accommodated in the summer camp, shares her story. 
"Together with my children, we laugh more often already. We started to love this place," Olga continues and says that they explore the area around the camp. "It's beautiful here, on the banks of the Dniester. We also have a scheduled visit to the Chisinau Zoo. Life is starting to take shape again. I think that in the future we will call Moldova our second home. Only the news that Russia is bombing Ukraine again makes us cry sometimes during the night," Olga says and adds that they have agreed with the camp administration to come there again next year with their extended family and rest. "We hope by that time there will be peace in Ukraine."
Iana's story: The taste of Moldovan pies is unique
"To be honest, I never cease to be amazed by Moldovan hospitality. We felt the goodness of this people as soon as we passed through the customs - they welcomed us with Moldovan pies, the taste of which will stay with me for the rest of my life," Iana, a Ukrainian refugee staying in the summer camp, recalls the moment she arrived to Moldova.
"Every day I am convinced that there are people who make small gestures that have a colossal impact on us. Without cameras, without reporters around, without any hidden benefit, these people help us. I don't even know what are the names of the people who support us. But I can tell that through their actions, humanity has another chance. Our children learn here what means humanity and how to express it. "
Caritas Czech Republic equipped the summer camp in Moldova
Caritas Czech Republic continues to support refugees who have fled the war and are accommodated in Moldova within the project "Emergency Support for Refugees in Ukraine".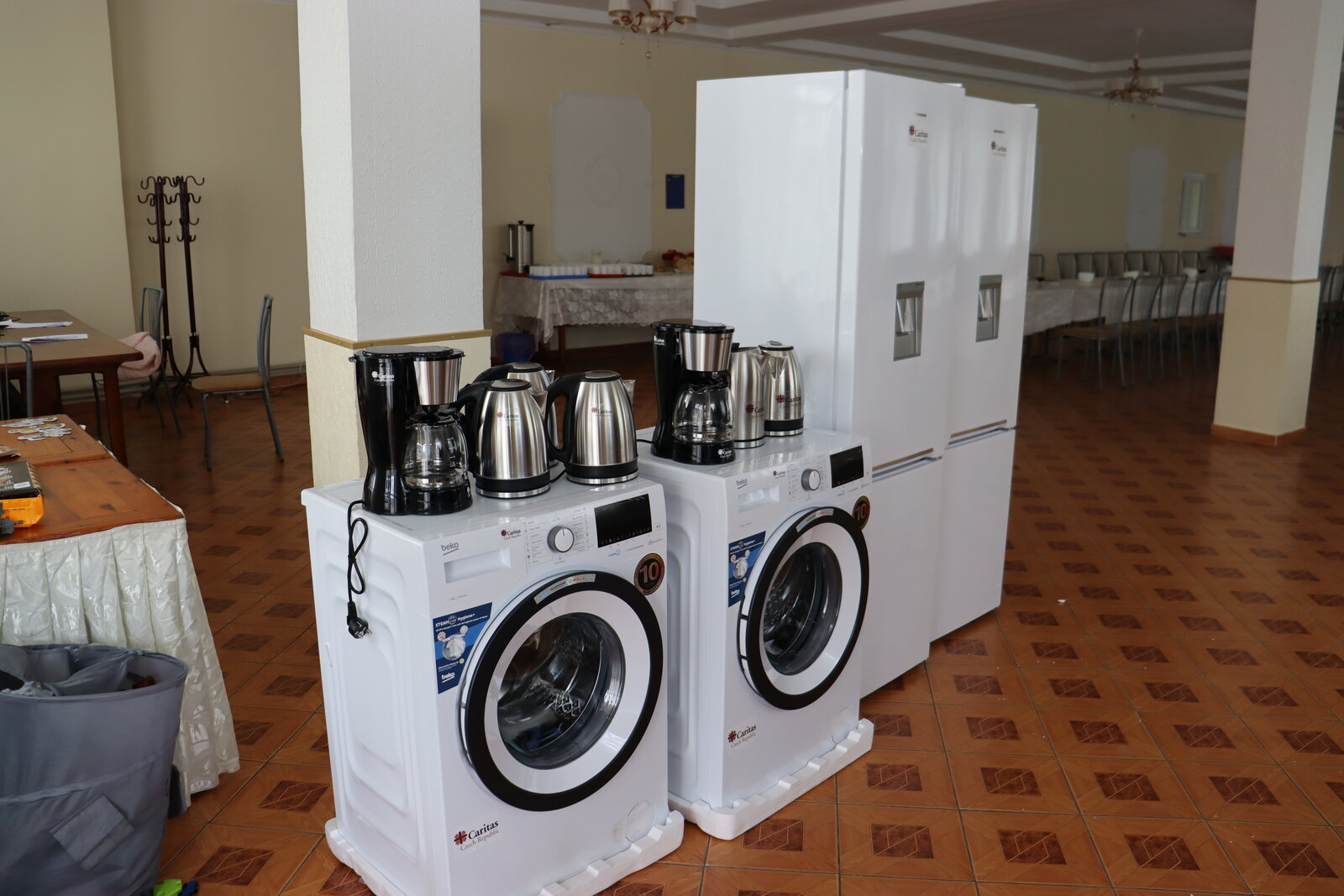 The "Prietenia" summer camp in the village of Cosnita in Dubasari district received 70 blankets, 100 pillows, 2 refrigerators, 2 washing machines, 2 coffee machines and 6 electric kettles as a donation from Caritas Czech Republic in order create decent accommodation for Ukrainian refugees.