Best of 2021 in Caritas Czech Republic in Moldova
What have we achieved in the past year? Although 2021 brought many challenges again, we managed to overcome them and focus on positive results, whether it was the introduction of telemedicine in rural areas or improving waste management in a local town. Let us take you through the best moments of Caritas Czech Republic in Moldova.
1. Telemedicine – technologies for the future
Last year, we launched a new project which is piloting telemedicine (teleconsultations and telemonitoring) in 8 medico-social centres across the country with the support of CzechAid.
The aim of the project is to equip the health and social centres with the technology necessary to provide telemedicine services, to train the staff of these centres in the use of this technology and in conducting remote consultations. And last but not least, to regulate and develop working standards in telemedicine so that this pilot initiative can be replicated and expanded nationwide.
In this way, Caritas Czech Republic will contribute to improving the quality of life of those who need medical care, suffer from chronic diseases or whose condition needs to be regularly monitored, by ensuring a direct online connection between the person and the specialist, thus avoiding geographical barriers, transport costs and waiting times for consultations in the doctor's office.
2. Caregiver profession
Working for more than 15 years in the homecare sector in Moldova, we achieved a new high in 2021. We put the finishing touches on a new profession – the caregiver, which will be introduced next year.
The caregiver will come to the aid of the elderly and people with special needs, and will be able to provide basic medical and social services based on a 400-hour training programme.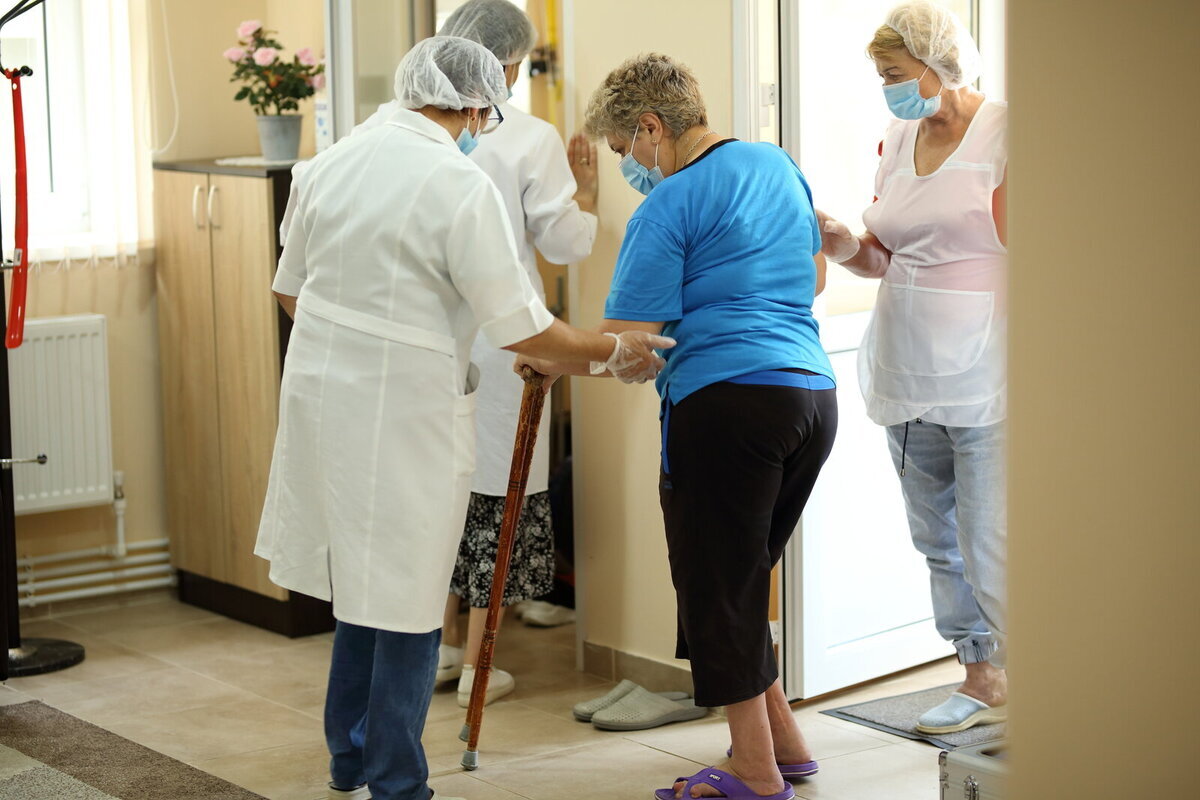 The need to introduce the new profession has arisen because of the insufficient number of nurses, who consequently cannot cope with the high demand for home care services. The new profession will significantly reduce the burden on the care system for the elderly and vulnerable at national level and will contribute to increasing the quality of life of those who are cared for.
3. New donor and a new area
We started our cooperation with a new donor in a new area – waste management. Thanks to SlovakAid's funding, we have initiated the improvement of the solid waste-related services for more than 9,000 people in the Criuleni district.
Throughout the year, Caritas Czech Republic will endow the local public administration of Criuleni with the necessary infrastructure and equipment, helping them to develop a clear view on how to manage waste in the long term, and educating waste professionals and the general public on how to ensure a cleaner environment. All of this will lay the foundation for better, safer and faster waste services and create a model of dealing with solid waste that can be replicated by other similar cities.
4. Newly trained 400 professionals from the left-bank of Nistru
As one of the few NGOs implementing projects in Transnistria, together with our partners – AO Homecare and Association Health and Sport, we have managed to train more than 400 health and social professionals in providing long-term care for the elderly and people with special needs.
Over the course of 4 months, more than a dozen of experts trained a relatively large number of health and social care workers from 5 districts located on the left bank of Nistru river. The health and social professionals learned about the basics in providing long-term care, ethics in doing their job, work challenges and how to address them, palliative care and the latest developments in the provision of home care services.
5. Bigger and stronger local team
Last, but not least, our local team doubled in size and upgraded its skills. We managed to acquire some great professionals in project management, local public relations and communication, that will be the core of our team for the years to come.
In this new composition, we eagerly look forward to 2022 to be able to bring change on local and national level through quality development cooperation projects.